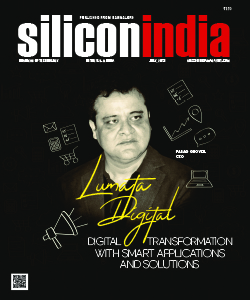 Digital Transformation with Smart Applications & Solutions: Cover Story on Lumata Digital by Silicon India Magazine
Experts and leaders from industry have been working on creating and evolving the Digital Transformation (DX) frameworks which varies by industry and organisation but they all focus on common elements like customer experience, culture & Leadership, Operational agility, workforce enablement etc. With an estimated market of 1.3 trillion USD in 2018 and increasing adoption rate by enterprises across geographies, it indeed becomes an important business driver for enterprises.  Headquartered in Delhi NCR, inspired by the Nine Pillars of Digital Transformation (a framework conceptualised by MIT Sloan and Capgemini), Lumata Digital is helping enterprises to enable and accelerate their digital transformation journey by providing intelligent, cloud-based applications  - digiApps based on robotics process automation concept, using its robust, virtualized & Omni-channel Platform - digiEngage. READ MORE>>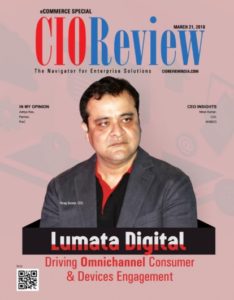 CIO Review feature story covers Lumata Digital's Omni-channel consumer & device engagement strategy to drive the value for enterprises.
The cover story by CIO Review magazine illustrates how modern enterprises can use 'true' omni-channel consumer & device engagement to create value for themselves and their consumers. Parag Grover, CEO of Lumata Digital, also talks about a clear differentiation between Omnichannel and Multichannel engagement and how this differentiation can impact the consumer experience and its relationship with an enterprise. READ MORE>>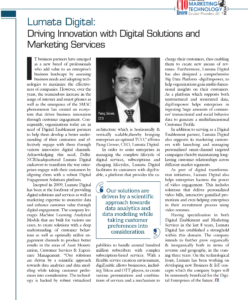 Lumata Digital has been recognized among the "20 Most Promising Marketing Technology Solution Providers-2017" by CIO Review.
The coverage by CIO Review magazine on Lumata Digital depicts how Lumata Digital endeavors on transforming the ways in which enterprises engage with their customers. The coverage further explores Lumata Digital's approach for driving innovation with digital solutions and marketing services through the suite of digital solution platforms. Lumata Digital has been so far at the forefront of providing digital solutions and services as well as marketing expertise to monetize data and enhance customer value. READ MORE>>