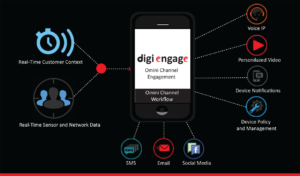 Lumata Digital's digiEngage™ platform provides their clients the opportunity to engage the end users with a bunch of value added services and also helps to gear up loyalty of the users towards the company further helping in customer retention.
Digital engagement solutions by Lumata Digital helps to engage various Consumer, Network and Enterprise services. The major components of Lumata's digiEngage™ Platform are described below.
Omni-Channel Communication
Omni channel should be structured as a multichannel approach to sales that can efficiently provide the customer with a seamless experience across all the channels. Be it a desktop, mobile device, a telephone or a bricks and mortar store, there is a need for a smooth, Omni-channel approach that provides a single, cohesive experience for the customer. Omni-channel is a synchronized operating model in which all of the company's channels are aligned and depict a single face to the customer, along with one consistent way of doing business. In Omni-channel management, the service provider's brand effectively operates as a single channel, orchestrating high-value customer experiences across all touch points. The multichannel customer experience it delivers is unified, consistent and personalized through the integration of agent-assisted channels with digital channels such as social media, so customers can interact with the provider across all channels whenever, wherever and however they want.
Lumata Digital understands the need of an Omni-channel platform and thus provides multiple channels like USSD, In-call IVR, Messages and Email channels to carry a seamless Omni-channel approach.
India has one of the world's fastest-growing smartphone markets which make mobile advertising a successful smart way to promote products and services and share important business updates with customers. Break-through customer experience and generating new revenue streams is the need of the hour. Promotional and Transactional messaging helps achieve above objectives.
Lumata Digital provides various engagement solutions for marketing like Push Campaigns, Branding, Lead Generation and Interactive messaging applications. These services are customised in accordance to various requirements of the clients. In addition, transactional message campaigns also enrich engagement.
The various objectives achieved using Omni-channel engagement includes identification of processes where mobility can provide faster and more engaging customer service, use of mobile capabilities to facilitate day to day tasks and enquiries along with building up of security safeguards for employees using mobile devices for work-related activities. The company also helps leveraging geo-data based on location to advance customer experience and determine employee efficacy.
Benefits:
Superior Customer Insights: The insights will help the brand identify the behavior of all customers and answer many questions about their buying habits and historical traces. It can determine how a consumer responds to email promotions, direct mails, when they are buying and how they prefer to buy. Basically, this would accelerate the lead generation process
Brand Exposure: Omni channel customers prefer to have their own methodology and ideals to connect to their brand. They want the accessibility at their convenience with a comfort to connect to the brand whenever and wherever they want. Thus making your brand visible offline or online, increases the credibility of the brand and helps gain brand exposure.
Revenue Booster: Most of the consumers prefer having a seamless flow between all the devices and channels they use. Omni channel engagement thus helps the companies increase their revenue by providing delightful experience.
Value Added Engagement
Lumata Digital's Value Added Engagement Solutions is further bifurcated in Campaign Management and Loyalty Management.
Campaign Management: Lumata Digital's Campaign Management Platform is a comprehensive, near real-time execution platform that manages campaign flows for subscribers throughout digital customer lifecycle.
It has been designed specifically for clients to execute contextual marketing campaigns. The platform supports a wide variety of communication channels and dialogue responses. This gives an end result of reduced customer churns and also stimulates revenues, thus maximizing customer lifetime value.
Our Campaign Management Platform manages bulk campaigns per month for our clients and helps them in generating significant and sustainable net incremental revenue.
Benefits
Multi-step, multi-channel, campaign execution

Hundreds of synchronized campaigns are supported by our platform and scalable to meet campaign requirement.

Easy to integrate in existing systems or platforms

Best-in-class Telco fulfillment of offers and rewards to intelligent network (IN), loyalty and Business Support Systems (BSS) and even third party - we manage the full offer, from take up till redemption process

digiEngage aids to constantly monitor subscriber response and behavior in order to respond

Our platform has built-in analytics – enabling micro-segmentation, insights and automation directly within the execution platform

Real-time operational monitoring, notifying and dashboards for campaign performance management
Loyalty Management
Lumata Digital's next-generation customer loyalty solution is a highly flexible and configurable points-based platform which permits to create and implement an exceptional customer engagement program that effectively manages memberships and rewards, interact with customers across multiple channels and track program performance.
A loyalty management solution open ways for various further attainments:
Commendably manage and use customer data gathered across all touch-points

Develop a complete profile base concerning the behavior, lifestyles and habits of customers and identify the most valuable program members for target marketing.

Prepare an optimal target group and tiers for tailored offers, communication and reward strategy on the basis of monthly spending, the number of Revenue Generating Units purchased, events, rewards orders, duration of on-going membership, usage patterns and detailed history of program members' activities

Provide your customers with relevant offers and promotions in a timely manner to encourage increased usage and engagement

Benefit from high flexibility in the creation of accrual and redemption rules, as well as in the launching and controlling of sophisticated cross- and up-selling promotions

Define tailored and real-time promotions for every element of subscriber invoices, transactions, for any relevant customer information triggered by specific events or on-line operations

Build on-going dialog with customers through various channels including: email, POS, POS TV, SMS, websites, direct mail, mobile application, Call Centre

Distribute bonuses via multiple channels as rewards with different price plans, special privileges, service upgrades or additional minutes to encourage subscriber to increase their service usage

Instantly launch exclusive rewards clubs, deliver special discounts, on-line vouchers, giveaways, exclusive content, as well as offer trial access to a pre-offered service to break the cycle of price comparison and deal-driven churn

Ensure program members have constant access to their accounts via an on-line self-care portal, modern mobile application or through their customer care Centre's

Make your customers your brand advocates by engaging with them through social media channels, letting them rate rewards and offering them a "refer a friend" opportunity

Use valuable and easy-to-access reports, dashboards and deep customer analytics to constantly monitor program performance and track strategic operations