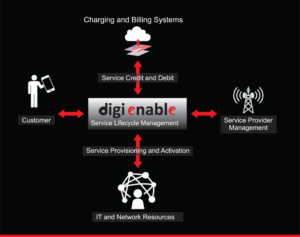 Digital Engagement by Lumata Digital is a powerful and comprehensive set of solutions that enables enterprises to digitally engage with and empower customers by providing rich and compelling user experiences at every touch-point. Lumata Digital enables various Consumer, Network and Enterprise services using its Service Delivery Platform. The major components of Lumata's SDP are described below:
Content Aggregation & management -Content Aggregation & Management - We uphold pro-active, closely managed relationships with an array of local and international content providers and producers. We keep a keen eye on local market trends and demands, up-coming talent and top sellers. So we are the masters for target marketing. Our expertise provides huge benefits to our clients as quality content generates revenue and their service offerings are perceived to have a higher value by their subscribers.
The various types of rich media content provided include:
SMS packs for lifestyle such as (Slim and Smart, Career Guru, Big Smile, Thought of the day), humor (Laugh out Loud, Full Fun, Funky Status Messages), infotainment (facts, go green, jungle fun), sports (Cricket, football and many more), cinema (cine talkies, cine buzz, hot quote), news (Trending News, News Flash, Tech updates), utility (Search, Discount Deals).
Video streaming and download not only saves the time spent by the end user on searching for the relevant video but also helps them receive rich, dynamic and latest content on their fingertips.
Music is the soul of mind and body. Thus providing the end users with the kind of music they prefer and making it available for ringtone download is one of the splendid services provided. Music preference may vary in genre, language and type but when the users have ample options to choose from, it becomes easy for them to get the desired one.
Content Delivery - Being an integrated platform to design, develop, roll out, promote and manage services and content delivery for large service providers, our platform converge multichannel Voice, Video, SMS, USSD and Data deliveries for enhanced telecommunication service offerings, esteemed by network operators worldwide and on the other hand it is also relevant for the customers who crave for highly accessible, digestible contents.

Benefits
Hosted content and delivery services
Extensive genres and media of content being frequently updated
Increase content revenue by cross-sell and upsell.
Customer Acquisition
Your business will only win by marketing smartly – acquiring customers in a way that differentiates you from the crowd and builds an enthusiastic and valuable customer base. The content and digital service needs to be monetized by effective promotions of the services resulting in customer acquisition and retention. Our customer acquisition plan ensure high conversion rates by content promotion thru spanning beyond basic voice and SMS to real-time SIM-toolkit based promotions and Post Call Notifications.
Benefits
Scalable and customized solutions designed as per the requirement of clients.
Time efficient: This is the time saving method for lead generation.
Easy, affordable, and effective for building a customer database that is fit for a king.
Subscription Manager
digiEnable™ is a platform product which manages the subscription lifecycle of consumer and enterprise services. The service lifecycle begins from a service creation environment which allows to quickly roll-out new services. The customer engagement lifecycle service also extends to provisioning of a service for a consumer; rating and charging for new services as well as renewals.
Service life-cycle constitutes the following phases:
Service Creation and Discovery: The Telco companies design customized value added services through content delivery system for the end user depending on their various preferences. The major motive being able to understand the end user and delivering the service that the user prefers to use the most. Use of explicit and implicit data helps in the creation of the service.
Service Provision: Different users may have different preferences. End user may be a little skeptic of purchasing a service for the whole month. Thus offering a 3 day trial pack or a 7 day trial pack could be an option. The services may be provided to them via call, IVR or text message depending on the user convenience.
Service Activation: Once the service has been subscribed for, the entire process of the charges along with the number of days for the service information is provided to the user. Users are also notified on how to deactivate the service whenever they need resulting in friendly CRM.
Service Renewal: Apart from getting the services activated initially, it becomes equally important to maintain the service further as well. Closely monitoring the clients, digiEnable helps in reminding the users about their prepaid balance status and the charges which will be levied. In case of low balance, digiEnable smartly gives credit to the customers based on their historical imprints thus minimizing losses and providing unrivalled customer support.
digiEnable™empowers operators and service providers to create subscription services for all bearers from a solitary platform. It brings wider audience to the telecom operators regarding various content as well as information based services. It also contains a module for enabling double consent functionality if required where-in the platform asks for an explicit confirmation from the customer before activating a subscription based service. This helps Telco to manage various products/services in an organized way facilitating the way ahead for 'clean VAS'.
Benefits:
It helps Operators to launch and deliver Subscription services to its end users

Uplift subscription revenues by allowing Operators launching different type of subscription management systems.

Allows carrier to integrate multiple CPs for subscription

Helps to reduce churn rate, increase customer loyalty and improve revenues.

The subscription engine works as a base for launching future services in the roadmap to trigger new revenue streams